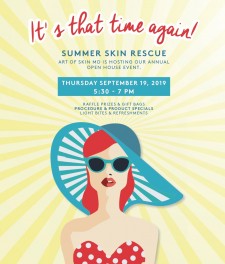 Top San Diego Cosmetic Dermatologist Offers the Year's Best Product and Procedure Specials at Annual Open House Event
SAN DIEGO, September 5, 2019 (Newswire.com) - After a season spent poolside, beachside, and basking in the sun, leading San Diego cosmetic dermatologist Melanie Palm, M.D. announces her 7th annual open house event, Summer Skin Rescue, at Art of Skin MD in Solana Beach, California on Thursday, Sept. 19, 2019 from 5:30 p.m. to 7:30 p.m. The RSVP-only event will include light bites and refreshments, raffle prizes, gift bags, and most importantly, the year's best procedure and product specials.
"After a season of saltwater, chlorine pools, excessive heat and sweating, and of course, sun exposure, our Summer Skin Rescue event is a great way to refresh the face and body, and address any damage done by our summer lifestyles as we move into fall," says Dr. Palm.
Both existing and prospective patients are welcome to attend. This year, Art of Skin MD will be offering deep deals on the latest products, lasers, cosmetic fillers, and toxins, including the highly purified "NewTox," Jeuveau.
Additionally, Art of Skin MD will be debuting a brand new wing to its clinic: Body by Art of Skin MD. The specialized wing has been custom-built to cater exclusively to patients receiving non-invasive body contouring and skin-tightening procedures, including Emsculpt, CoolSculpting, Vanquish, Cellutone, Ultherapy, and for the first time ever, Emtone. Attendees of the event will not only get a first look at Body by Art of Skin MD, but also access to special offers on non-invasive body contouring procedures.
Space is limited. To RSVP to Art of Skin MD's Summer Skin Rescue event today, please call 858-792-7546. To learn more, please visit www.artofskinmd.com.
###
About Art of Skin MD
Located in Solana Beach, California, Art of Skin MD is the leading dermatology center founded by Melanie D. Palm, MD, MBA, a nationally lauded board-certified dermatologist and fellowship-trained dermatologic surgeon. An expert in skin conditions and cosmetic procedures, Dr. Palm is a published author, sought-after clinical researcher, national and international lecturer, key opinion leader to industry advisory boards, and above all, a passionate patient advocate. Due to her extensive knowledge and experience within both medical and aesthetic dermatology fields, Dr. Palm is regularly called upon for her expert commentary regarding safety, insights, and innovations surrounding laser technology, injectables, liposculpture, vein treatments, and other pertinent skincare topics. She has been featured on several television and radio programs, including  The Doctors, ABC, NBC, Fox, and CBS, as well as in various magazine and newspapers, such as  InStyle, Glamour, Allure, Cosmopolitan, Harper's Bazaar, The Today Show, Redbook, and more. 
Source: Art of Skin MD
Share: