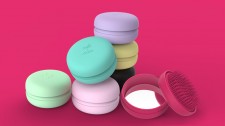 Novelty and Function Find Delicious Harmony With New Bite-Size Detangling Hairbrush and Mirror Compact
Los Angeles, CA, June 12, 2017 (Newswire.com) - Premium hair accessory brand Milk + Sass® is finally releasing its Parisian-inspired detangling brush and mirror compact, Macaron for Hair®. Now available online, the bite-size grooming compact is not only tres chic, but it is also surprisingly sophisticated and versatile in its design.
One part high-end detangling hairbrush, one part travel mirror, and all around sweet, Milk + Sass' Macaron for Hair is a recipe for smooth, healthy hair. The fresh design features smart radial bristles, which are strategically placed at varying heights, allowing for gentle, damage-free detangling in half the time of traditional hairbrushes. Additionally, the brush's iconic shape (and velvety touch) adds a high-fashion edge yet to be seen in other premium detangling brushes on the market.
"This is the ultimate hairbrush for Francophiles," said Nadia Valentino, founder of Milk + Sass. "The bright colors, the luxury feel, and the unmistakable macaron shape give it an air of quirk and style that you simply won't find in your average detangling hairbrush. However, the best part is that the Macaron for Hair is every bit a novel as it is functional. You will be amazed at how well it goes to work on taming tangles and smoothing frizz."
Macaron for Hair was made to easily pass through any hair age, type, and texture, be it wet or dry, curly or straight, thin or thick, natural or synthetic, young or mature. The pop on/pop off cover provides important bristle protection, making it an ideal travel companion, while the hidden compact mirror is a major plus in terms of convenience and function.
"We have been incredibly meticulous in ensuring all design aspects of the brush are absolutely top notch," said Valentino. "No detail has been overlooked, from the ergonomics to the velvet finish. Whether you are headed to the beach, catching a flight, or are racing to and from appointments, Macaron for Hair is an on-the-go grooming must-have for women, men, teens, and kids alike."
Macaron for Hair is currently available in a variety of colors to suit any taste, including Raspberry, Black Licorice Framboise, Mint Citron, Lemon Pistachio, Rose Petal, and Lavender. Additionally, the brand plans to launch a limited edition golden Macaron this holiday season.
Milk + Sass will officially unveil its Macaron for Hair on July 9 through 11 at Cosmoprof North America at the Mandalay Bay Convention Center in Las Vegas at booth #42392.
For more information, please visit http://milkandsass.com.
###
ABOUT MILK + SASS
Milk + Sass, an Orielle LLC brand, is a leading innovator in premium hair accessories. Touting years of experience, research, and fashion sense, Milk + Sass offers superior ergonomics, unsurpassed function, and undeniable quality and style in each and every product offered. Home to the fastest and most luxurious detangling brushes, as well as several more sweet and sassy candy-inspired hair accessories, Orielle's Milk + Sass is the go-to brand for men, women, and children seeking optimum hair health and maximum shine.
Source: Milk + Sass
Share: