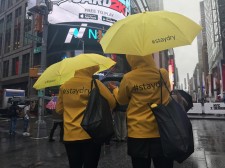 Bright Yellow #StayDry Umbrellas Are Popping Up All Over New York City
New York, NY, May 22, 2017 (Newswire.com) - Viita is keeping pedestrians dry today as rain bathes New York City. Beginning at 1 p.m. EST, bright yellow umbrellas donning the hashtag #staydry began popping up all over Times Square. By 5 p.m., it is estimated as many as one thousand individuals will be sporting the umbrella. The message being spread: everyone deserves to stay dry and confident, especially when nature unexpectedly comes calling.
Though rarely publicly discussed, it is estimated that one in every three women will experience bladder leakage in her lifetime. Causes can range from childbirth to menopause. Up until now, most women relied on menstrual pads and/or adult diapers for protection. However, Viita has introduced discreet, high-tech, and fashion-forward absorbent lingerie that ensures women (and men) stay dry, leak-free, and odorless in the event of a little to a lot of bladder leakage.
"Just like being caught without an umbrella in an unexpected rainstorm can be disheartening, so can being caught without protection when a rogue sneeze or hysterical joke causes our bodies to 'misfire,'" says Raquel Tulk, founder of Viita. "Our hope is to dismantle the taboo of bladder leakage by spreading greater awareness of the issue, as well as offering a very real and specialized solution with Viita."
The Viita #staydry street team can currently be spotted in yellow slickers in Times Square. For every free umbrella being passed out, they will also provide a special discount coupon for Viita's absorbent lingerie, available at several CVS pharmacies in the immediate area.
To learn more about Viita, please visit http://www.viitaprotection.com/en/. Tune in live on Facebook and Instagram.
###
Source: Viita
Share: